EUBOS FEMININ WASHING EMULSION 200ml x 2 Bottles + M-Shampoo 1 x 50ml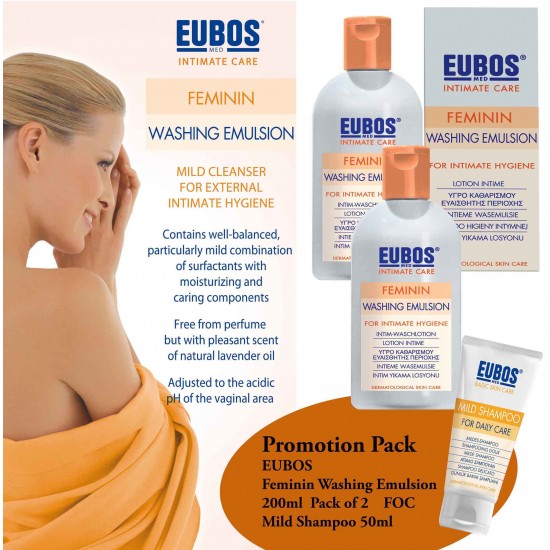 Hot
EUBOS FEMININ WASHING EMULSION 200ml x 2 Bottles + M-Shampoo 1 x 50ml
Stock:

In Stock

Model:

FEMININ 2 + M-SHAMPOO 50ml

Weight:

1.00kg

Dimensions:

0.60cm x 0.10cm x 0.16cm

SKU:

Promotion Pack
EUBOS Feminin Washing Emulsion 200ml ( Pack of 2 FOC Shampoo 50ml )
Mild cleanser for intimate hygiene. Cleanse, soothe and moisturize your delicate intimate areas daily,
especially for menses, during pregnancy period and postnatal discharge.
(Alkaline free, Dye-free, Alcohol-free, Lanolin-free, PEG-free, Paraben-free)
EUBOS Feminine Washing Emulsion, a well-balanced formulation specially developed to cleanse, protect and care for a woman's delicate areas. This gentle and effective cleanser
is composed of mild surfactants with lipid enriching and moisturizing agents to ensure superior intimate hygiene. It also aids in protecting the female intimate area from complications and
discomforts due to infections.
(Protects reliably the natural biosphere of the sensitive intimate region to maintain the physiological, acidic pH. )
The main active agents and their benefit: Natural bisabolol ( active of Camomile) soothes and relaxes the skin.
Hydrolyzed milk protein and wheat protein bind moisture and enhance the equilibrium moisture content softening and smoothing the skin.
Lactic acid supports the natural slightly ocidic biosphere.
Contains:- Bisabolol, Hydrolyzed Milk Protein & Wheat Protein, Panthenol, Lactic acid.
(Alkaline free, Dye-free, Alcohol-free, Lanolin-free, PEG-free, Paraben-free)