EUBOS UREA FACE CR + BODY CARE PROMO PACK - 3 in 1 Bundle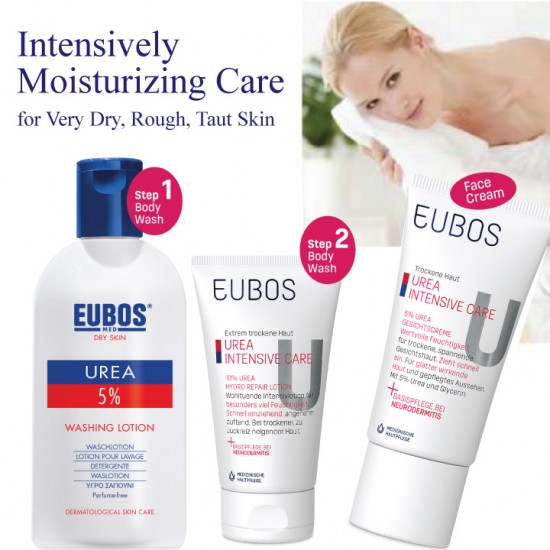 EUBOS UREA FACE CR + BODY CARE PROMO PACK - 3 in 1 Bundle
Stock:

In Stock

Model:

EUBOS UREA PROMO PACK - 3 in 1 Bundle

Weight:

1.00kg

Dimensions:

0.18cm x 0.80cm x 0.18cm

SKU:

Bundle

EUBOS
EUBOS Urea Face & Body Promo Pack (3 in 1 pack)
EUBOS UREA 5% Washing Lotion ( Shower Gel ) 200ml

Extremely mild cleansing lotion for dry, very dry, rough and taut skin. Also suitable for children. Has a lipid-replenishing, soothing effect and protects against drying out thanks to its combination of active substances,
such as lactic acid, oligofructose, sea minerals, glycerol and nourishing lipids. Protects the skin's natural barrier and relieves itching. Physiological pH, free from alkaline soap and ether sulfate.
Perfume free / colorant free / lanolin free
EUBOS UREA 10% Hydro Repair Lotion ( Body Lotion ) 150ml
Intensively moisturising care for very dry, rough, taut and itching skin. Very rapidly absorbable O/W emulsion with 10% urea as well as 10% olive oil and almond oil. Does not stick, ideal especially on warm days. Increases the moisture and lipid content of the skin significantly and lastingly. Reduces the feeling of tautness and roughness, making the skin smooth and supple. Prebiotic acting Bioecolia helps to strengthen the natural defence system of the skin. Contains a perfume especially developed for sensitive skin.
UREA has many wonderful benefits. It is extremely hydrating and moisturizing and really helps bring relief to dry skin.

Reduces the feeling of tautness and roughness, makes the skin smooth and supple.
It is a natural skin moisturiser.
Urea has an outstanding cleansing ability function.
Powerful hydrating properties.
Skin becomes smoother and more elastic.
EUBOS UREA 5% Face Cream 50ml
Soothing Care for dry, rough and taut facial skin.
For dry, rough and taut skin. Pleasantly light, quickly absorbable O/W emulsion with 5% urea, macadamia nut oil and allantoin. Provides intensive moisture, strengthens the natural protective barrier,
reduces tautness and smooths skin perceptibly.Also recommended astherapy-accompanying care in case of dermatological problems. Compatible with make-up.
Perfume-free / Paraben-free / Colorant-free / Alkaline Soap-free / Physiological pH