EUBOS SENSITIVE STEP 1&2 + SHAMPOO 50ML with Gift Box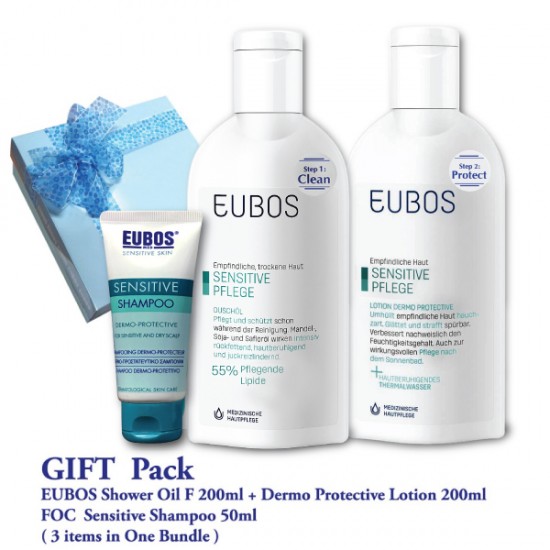 Hot
EUBOS SENSITIVE STEP 1&2 + SHAMPOO 50ML with Gift Box
Stock:

In Stock

Model:

GIFT SET_SENSITIVE RANGE

Weight:

1.00kg

Dimensions:

0.20cm x 0.20cm x 0.20cm

SKU:

Gift Set

EUBOS
Premium Gift Set EUBOS Sensitive Step 1 & Step 2 + 50ml Shampoo (3 in 1 Pack)


EUBOS Sensitive SHOWER OIL F (Step-1) this mild cleanser protects the skin's natural biosphere from head to toe. Recommended for persons diagnosed as having particularly dry and sensitive skin.
Ingredients: Soybean Oil; Almond Oi ; Safflower Oil; Chamomile extract with Bisabolol.
Application: Apply Shower Oil F thoroughly on damp skin; leave it on for a few minutes to experience maximum effect. Then rinse off with lukewarm water. Shake gently before use.
EUBOS Sensitive LOTION DERMO-PROTECTIVE (Step-2), an effective dermatological body care lotion that moisturizes, protects and repairs skin from head to toe. This hypoallergenic

formula is infused with selected natural oils and is free from colorants, paraffin and PEG-derivatives. Regular application will strengthen the skin's natural defense system, enhance skin hydration and support skin regeneration.
Ingredients: Avocado, Shea Fruit extracts, Vitamin E, Macadamia Nut Oil, Glycerol, Amino acids, Urea and Lactic acid.
Application: Cleanse with EUBOS Sensitive SHOWER OIL F, pat dry, then apply EUBOS Sensitive LOTION DERMO-PROTECTIVE to the whole body.
EUBOS SENSITIVE SHOWER OIL F 200ml & LOTION DERMO PROTECTIVE 200ml
(Dermatological tested)
Usage: Protects and calms sensitive and very dry skin with a high portion of natural oils and other raw ingredients.
Effect: After 7 days of usage, the skin condition improves significantly and the study of the Bio MIME tables damp retaining factors shown the skin condition with a good hydration level and it also reduces skin roughness as well as fold depth.

EUBOS Shampoo Dermo-Protective For Sensitive and Dry Scalp
Packing: 150ml
Mild cleansing and care for sensitive and dry scalp. Suited for all hair types. Effective conditioning agents strengthen and protect even damaged hair. Actives like Panthenol (Pro-Vitamin B5), Wheat Protein and moisturizing factors protect hair and scalp from drying out, adding brightness and flexibility to the hair. With skin-soothing thermal water from the Pyrenees*.
Free from alkali and soap; physiological pH.