EUBOS CREAM BATH OIL 200ml + FACIAL CREAM JAR 50ml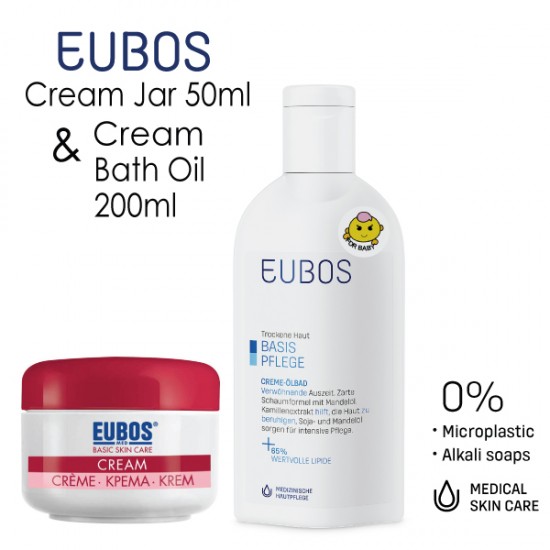 Hot
EUBOS CREAM BATH OIL 200ml + FACIAL CREAM JAR 50ml
Stock:

In Stock

Model:

CR BATH OIL + CR JAR

Weight:

0.40kg

Dimensions:

0.15cm x 0.05cm x 0.16cm

SKU:

Bundle
Eubos Cream Bath Oil + Facial Cream Jar (2 in 1 bundle)


EUBOS Cream Bath Oil

Packing: 200ml
* Free for Preservative, PEG, Dye, Lanolin, Alkaline, Soap.
Recommended for all ages including babies and children who have dry skin.

To improve & stabilize the skin's moisture & lipid content, thus preventing scaling & drying out. It soothes the skin.
Direction on use: 1 cap full to be added to the bath. After bathing, rinse with lukewarm water.
Natural active ingredients: Soybean oil, sweet almond oil, camomile extract, etc.
Dermatologically tested.

EUBOS Cream Jar

Packing: 50ml
Facial Cream for all skin types, nourishing; hydrating, regenerating treatment for Day & Night.
Preserves elasticity, slows down wrinkles, does not block the pores.
EUBOS Cream is a water-in-oil containing choice vegetable oil with a high proportion of unsaturated fatty acids, Vitamin E,
Allantoine and panthenol. It maintains the tone of skin, improves its elasticity, and makes it smooth and supple.
EUBOS Cream equilibrates the skin's natural biosphere, thus reinforcing its resistance against drying out,
scaling and harmful environmental influences.
Dermatologically tested.

-Paraben Free , -PEG Free , -Dye Free, -Lanolin free.