EUBOS SKIN CARE TRAVEL SET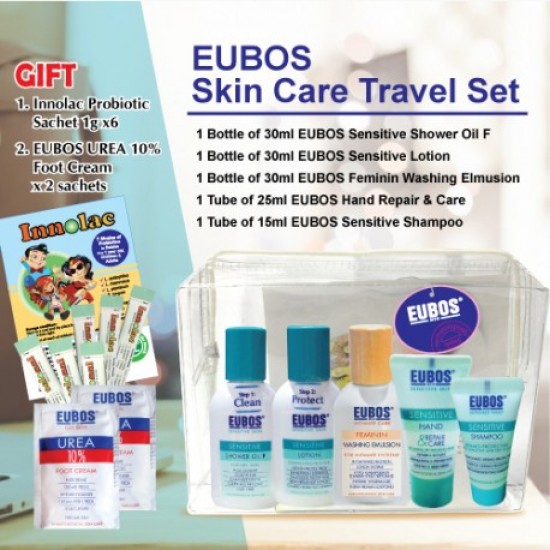 Hot
EUBOS SKIN CARE TRAVEL SET
Stock:

In Stock

Model:

TRAVEL SET

Weight:

0.50kg

Dimensions:

0.00cm x 0.00cm x 0.00cm

SKU:

Bundle
EUBOS Sensitive Shower Oil F Miniature - 30ml
Mildly cleanses while intensively replenishing lipids to protect the natural biosphere of the skin from head to toe. Contains natural oils and chamomile extract which are dermatologically proven to ensure very mild cleansing and care for sensitive, very dry irritative skin. A pH neutral cleanser that is free from alkali, soap, dyes and preservatives. Use daily to keep your skin healthy and radiant.
EUBOS Sensitive Lotion Miniature - 30ml
A body care lotion that moisturizes, protect and repairs skin. Enhances skin hydration and has a soothing velvety effect. Infused with selected natural oils and enhanced with Avacado, Shea Fruits, Allantion and Vitamin E. Regular application will strengthen the skin's natural defense system and support skin growth. Ideal for sensitive and very dry skin.
Use after shower and after sun exposure to reap the full hydration benefits of this healing lotion.
EUBOS Feminin Washing Elmusion Miniature - 30ml
A well-balanced formulation specially developed to cleanse, protect and care for a woman's delicate areas. This gentle and effective cleanser is composed of mild surfactants with lipid enriching and moisturizing agents to ensure superior intimate hygiene. It also aids in protecting the female intimate area from complications and discomforts due to infections.
(Protects reliably the natural biosphere of the sensitive intimate region to maintain the physiological, acidic pH. )
The main active agents and their benefit: Natural bisabolol ( active of Camomile) soothes and relaxes the skin.
Hydrolyzed milk protein and wheat protein bind moisture and enhance the equilibrium moisture content softening and smoothing the skin.
Lactic acid supports the natural slightly ocidic biosphere.
Contains:- Bisabolol, Hydrolyzed Milk Protein & Wheat Protein, Panthenol, Lactic acid.
(Alkaline free, Dye-free, Alcohol-free, Lanolin-free, PEG-free, Paraben-free)
EUBOS Sensitive Hand Repair & Care Miniature - 25ml
Is a fast and effective solution against environmental attack on your hands. Formulated with active ingredients and emollients, it helps form a protective layer around your hands while smoothing its rough, dry and cracked surface.
The non-greasy formula contains the multi-active vitamin complex with pro-vitamin B5, vitamin E, Urea, Rose Water and Glycerin to stabilize the moisture content of the skin, Panthenol, Shea Butter and Allantoin collectively protect the skin's natural biosphere.
EUBOS Sensitive Shampoo Miniature - 15ml
Mild cleansing and care for sensitive and dry scalp. Suited for all hair types. Effective conditioning agents strengthen and protect even damaged hair. Actives like Panthenol (Pro-Vitamin B5), Wheat Protein and moisturizing factors protect hair and scalp from drying out, adding brightness and flexibility to the hair. With skin-soothing thermal water from the Pyrenees*.
Free from alkali and soap; physiological pH.