PROTEK Caplet – Magnesium, Vitamin B12, Vitamin D3 (60 Caplets/per box)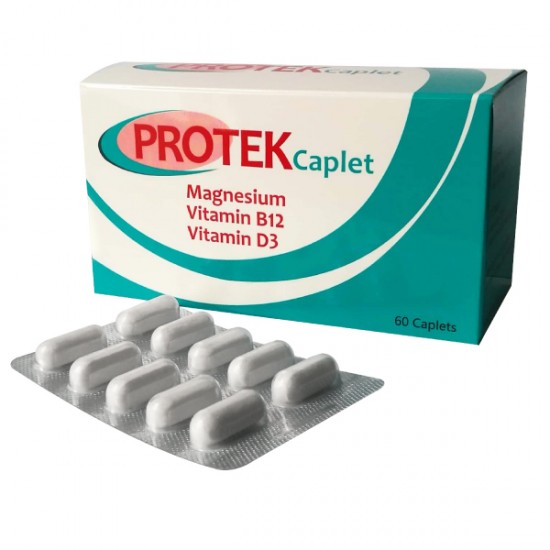 New Hot
PROTEK Caplet – Magnesium, Vitamin B12, Vitamin D3 (60 Caplets/per box)
Stock:

In Stock

Model:

Protek Caplet_1 Box

Weight:

0.20kg

Dimensions:

8.00cm x 5.00cm x 12.00cm
Boost Your Immune System to Minimise the Risk of Infection.

PROTEK Caplet _60 Caplets / per Box
. Magnesium
. Vitamin B12
. Vitamin D3
Registration Number: MAL21046079NC
Each caplet contains:
Magnesium - 150mg
Methylcobalamin (Vitamin B12) - 500mcg
Vitamin D3 - 1000IU
Indication: Used as a health supplement.
Dosage: Adults- Take 1 caplet once daily with meal.
10 BENEFITS of Vitamin D3


1. Healthy Bones
2. Healthy Teeth
3. Supports Immune System
4. Improves Brain Function
5. Supports a Healthy Nervous System
6. Supports Lung Function
7. Improves Heart Health
8. Reduces the Risk of the Flu
9. Regulates Insulin Levels
10. Healthy Infants
BENEFITS OF Methylcobalamin (Vitamin B12)


1. Reduces oxidative stress
2. Anti-Inflammatory and Analgesic Effects
3. Reduces the Potential to Damage
Magnesium Deficiency Symptoms
- Cramps: Assisting with brain/muscle signals, magnesium helps relax muscles preventing cramps.
- Fatigue: Low Energy levels, fatigue and weakness are common symptoms of magnesium deficiency.
- Insomnia: Studies show magnesium supplementation can improve sleep duration and the quality of sleep.
- Anxiety: Magnesium calms the central nervous system. Deficiency creates anxiety due to dysregulation of the HPA axis.
- Headaches: Ineffective neurotransmitter balancing from magnesium deficiency can result in headaches and migraine.