Hiperskin TR-Transparent PU Film Adhesive ( 5cm x 10m )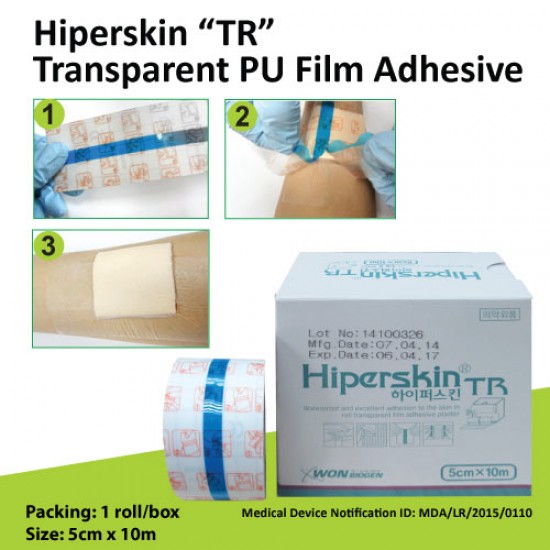 Hiperskin TR-Transparent PU Film Adhesive ( 5cm x 10m )
Stock:

In Stock

Model:

Hiperskin TR-Transparent PU Film Adhesive

Weight:

0.50kg

Dimensions:

6.00cm x 9.00cm x 9.00cm

SKU:

Single
Hiperskin "TR"_ Transparent PU Film Adhesive
Medical Device Notification ID : MDA/LR/2015/0110
Packing: 1 roll/box
Size: 5cm x 10m
Hiperskin is a roll type band aid (sticking plaster) available as:
Hiperskin TR is a transparent polyurethane film that permits an easy observation. It could be used during shower or a swim.
•Its transparent polyurethane film permits an easy observation for inside conditions.
•It disallows water and germs while it permits air so that it can maintain humidity in proper condition.
•It is as soft as skin and provides an excellent feel on the surface.
•It does not spoil the look of applied areas because it does not stand out.
•It does not easily come off during a shower or a swim thanks to excellent adhesive power.