EUBOS LIQ WASHING EMUL Pump 400ml Pack of TWO _Blue - Promo Pack-Free Urea Hand Cr x 1 tube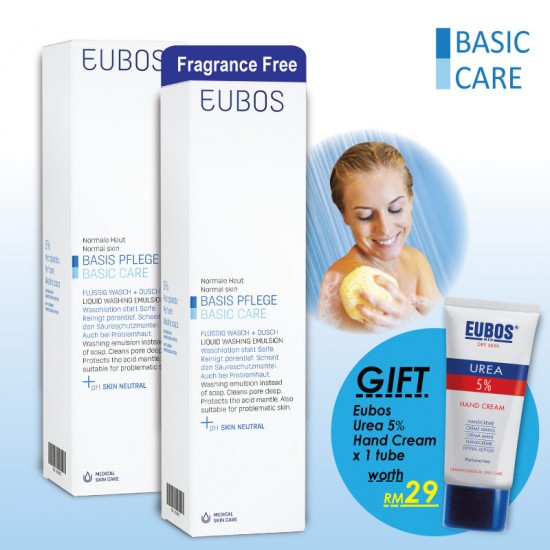 EUBOS LIQ WASHING EMUL Pump 400ml Pack of TWO _Blue - Promo Pack-Free Urea Hand Cr x 1 tube
Stock:

In Stock

Model:

LIQ-B 400 PUMP X 2_Free Urea Hand Cr

Weight:

1.30kg

Dimensions:

8.00cm x 13.00cm x 24.00cm

SKU:

Bundle
EUBOS Liq Washing Emul- BLUE (Fragrance Free)
Packing: 2 in one bundle - 400ml/ bottle
Mild Cleanser from Head to Toe Cleanser For Normal To Oily Skin

( Fragrance-free, CAPS-free, Alkaline Soap-free with Physiological pH )
EUBOS Liquid Washing Emulsion (Blue) is gentle for washing, showering or bathing. It is alkaline and soap free with Physiological pH. Due to the special combination of mild detergents and active agents with moisturizing factors, it is ideal for normal to problematic skin and can even be used in soap intolerance. It also protects the skin during cleansing process, prevents drying out and scaling. Well tolerated by highly stressed, chapped skin. For those with skin sensitives, pick EUBOS Blue for a gentle, unperfumed wash.
Gift: EUBOS UREA 5% Hand Cream

Packing: 75ml/ tube
Intensively moisturizing care for very dry, rough and chapped hands. Rapidly absorbable, non-oily O/W emulsion with Shea Butter and Vitamin complex for daily use. Provides the skin with long-lasting moisture and valuable lipids, helps to preserve from damaging exogenous influences and leads demonstrably to a significant improvement of the skin condition. Already after few application, even very dry, rough hands become perceptibly smoother and suppler.
Perfume free / colorant free / lanolin free