EUBOS SENSITIVE SHOWER OIL 200ml, LOTION 200ml and HAND CREAM 75ml (Premium Gift - Pack of 3)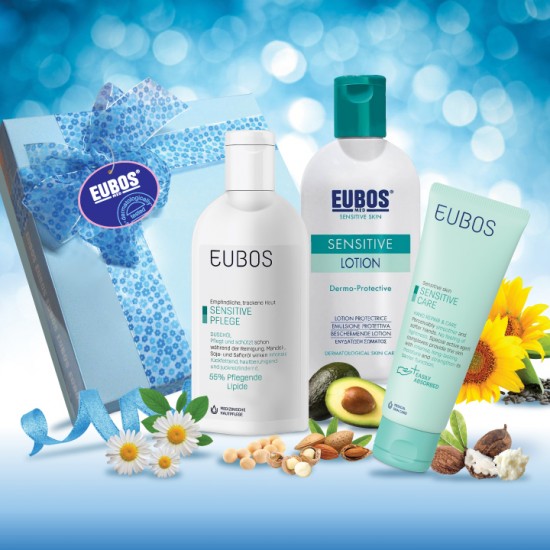 EUBOS SENSITIVE SHOWER OIL 200ml, LOTION 200ml and HAND CREAM 75ml (Premium Gift - Pack of 3)
Stock:

In Stock

Model:

Sensitive-Lotion-Shower Oil-Hand RC-Gift Box

Weight:

0.75kg

Dimensions:

0.22cm x 0.50cm x 0.18cm

SKU:

Gift Set
EUBOS Sensitive SHOWER OIL F (Step-1) Packing: 200ml
this mild cleanser protects the skin's natural biosphere from head to toe. Recommended for persons diagnosed as having particularly dry and sensitive skin.
Ingredients: Soybean Oil; Almond Oil; Safflower Oil; Chamomile extract with Bisabolol.
Application: Apply Shower Oil F thoroughly on damp skin; leave it on for a few minutes to experience the maximum effect. Then rinse off with lukewarm water. Shake gently before use.
Step 1 : EUBOS Sensitive SHOWER OIL F Packing: 200ml
 Suitable for dry, sensitive and problem skins
 Alkali soap-free
Application: Damn your skin and apply thoroughly for 5 minutes for maximum effect.

Then rinse off by bathing applied area with luke warm water without using any soap.
Paraben-free, PEG-free, Dye-free, Lanoline-free
EUBOS Sensitive Lotion Derma-Protective (Body Lotion) - Step 2 Packing: 200ml

A body care lotion that moisturizes, protects and repairs skin. It Enhances skin hydration and has a soothing velvety effect. Infused with selected natural oils and enhanced with Avacado, Shea Fruits, Allantoin and Vitamin E. Regular application will strengthen the skin's natural defense system and support skin growth. Ideal for sensitive and very dry skin.
Use after shower and after sun exposure to reap the full hydration benefits of this healing lotion.
EUBOS Sensitive LOTION DERMO PROTECTIVE

Characteristics:
EUBOS Sensitive LOTION DERMO PROTECTIVE is the effective dermatological care for sensitive and dry skin from the EUBOS research. It is recommended for daily
EUBOS SENSITIVE HAND REPAIR & CARE

PACKING:75ML

Eubos Hand Repair & Care Cream is an oil in water emulsion.


Regenerate and protects delicate skin. With biomimetic moisturizing ingredients plus multi-active vitamin complex with pro-vitamin B5, vitamin E, Amino-acids, Urea, Rosewater and Glycerol, Allantoin and nourishing additives protect the natural biosphere, prevent rough, brittle and chapped skin felt soft and supple.

The fine, non-greasy and water repellant protective film from dimethicone protects the hands from harmful environmental conditions and stresses.

Without colorants and PEG-containing emulsifiers; paraffin-free and with Physiological pH value, EUBOS Hand Repair & Care Cream is dermatologically confirmed to be superior in skin tolerance and efficacy even for dry and sensitive skin.

A regular, daily application results in well-groomed velvet-soft hands.


Proven results in 7 days!
Accelerated healing of surfactant damaged skin surfaces in 7 days

Smoothing effects of up to 26% in 28 days

Enhanced protection that lasts for up to 24 hours
Direction: Rub a small amount into your hands. Use daily to keep the skin on your hands soft and healthy.