DENTISTE' Premium and Natural White Toothpaste with pump dispenser _120g x2 bottles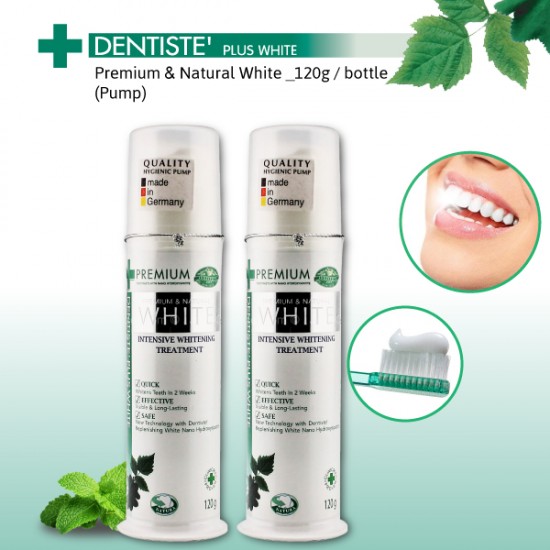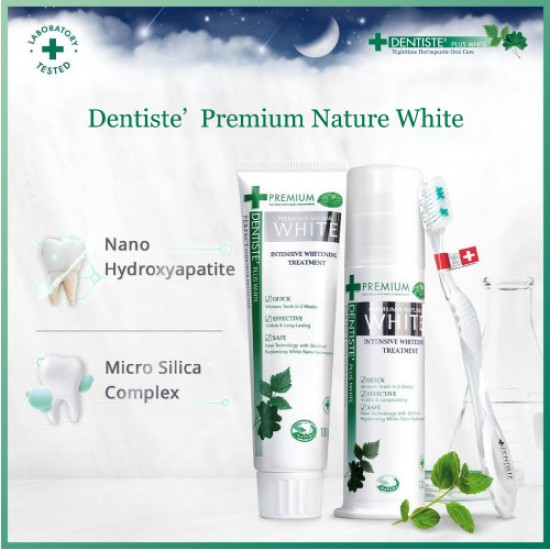 New

DENTISTE' Premium and Natural White Toothpaste with pump dispenser _120g x2 bottles
Stock:

In Stock

Model:

Dentiste Premium and Natural White Tp with pump 120g x2 bottles

Weight:

0.60kg

Dimensions:

7.00cm x 10.00cm x 18.00cm

SKU:

Bundle
Dentiste' Premium and Natural White Toothpaste with pump dispenser (x2 bottles)
Item Code: 704500
Packing: 120g/pump
QUICK – Whitens teeth in 2 weeks / EFFECTIVE – Visible & long lasting / SAFE – New technology with Dentiste' REPTENISING WHITE Nano Hydroxyapatite
WHITENING Nano Hydroxyapatite (HAp) toothpaste. The unique combination of anti-staining agents and remineralizing nano-hydroxyapatite in Dentiste' Whitening formula makes it effective not only at removing and preventing stain deposition but also at restoring the natural gloss of tooth enamel and results in safe, natural and whiter-looking teeth. With regular twice a day brushing, Dentiste' Premium White provides:
Whitens teeth
Builds increasing protection against painful sensitivity
Fights cavities
Freshens breath
Fights plaque
Fights gingivitis
Remove tongue stains (coffee, tea, wine, tobacco)
Highly recommended for:
Individuals who demand for cleaner teeth and fresher morning breath: 14 natural extracts inhibit oral bacteria growth which causes bad morning breath.




Individuals, especially smokers and coffee drinkers who desire whiter and healthier teeth: Nano Hydroxyapatite promotes tooth whitening and strengthens the enamel.




Individuals who suffer from sensitive tooth pain: Nano Hydroxyapatite helps reduce tooth sensitivity pain by restoring essential minerals to the teeth.




Individuals who undergone tooth whitening treatment: Nano Hydroxyapatite helps prolong white teeth and prevent tooth sensitivity after dental treatment.



14 natural extracts: Antibacterial and antiseptic ingredients help inhibit the growth of bacteria that causes bad breath and other oral problem.

Polishing Silica: Natural tooth scrub helps remove plaque and stains on the teeth

PVP (Polyvinyl Pyrrolidone): Helps dilute stains and prevent stain deposition

HAp (Nano Hydroxyapatite): Helps whiten the teeth and strengthen the enamel for stronger teeth

Sodium Tripolyphosphate: Helps prevent the formation of plaque on the teeth and gum

Direction of use:

Brush twice daily for white teeth, healthy gums and fresh breath.
Brush teeth thoroughly, preferably after each meal or at least 2 times a day, or as directed by a dentist or physician.
Rinse with water.