EUBOS SENSITIVE LOTION 200ML x 2Bottles Free 2 Miniature Foot Cream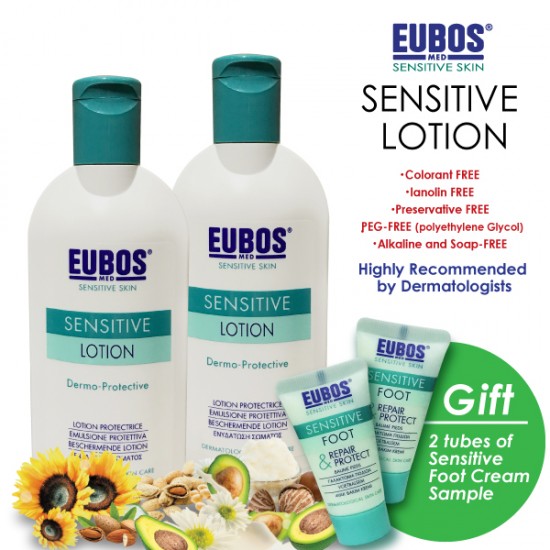 New Hot
EUBOS SENSITIVE LOTION 200ML x 2Bottles Free 2 Miniature Foot Cream
Stock:

In Stock

Model:

EUBOS Sensitive Skin Body Lotion x 2 tubes

Weight:

0.60kg

Dimensions:

12.00cm x 5.00cm x 17.00cm

SKU:

Bundle

EUBOS
EUBOS SENSITIVE Body Lotion
Packing: 200ml/ Tube
It protects the natural biosphere of the skin. The natural fat and humidity household of the skin are lastingly strengthened. Regular application, after few days the skin becomes noticeably more smoothly, more vitally and supply softly. At the same time, the ruggedness of the skin is strengthened due to the exogenous pollutants and it also promotes the regeneration of damaged skin. Sensitive skin is lastingly protected and the sensitivity of the skin is reduced intensively.
The main active substances and their use for the skin:
Phyto Wirkstoffsystem: Valuable lnhaltsstoffe of the Avocado and Shea fruit with a high content of ----------Phytosterolen, enriched with Allantoin and vitamin E, promotes cell regeneration, works strike-reassuring down, protects against harmful environmental influences and strengthens the strength of the skin.
Hygro Derm factor: The balanced mixture of components of the natural damp retaining factor of the skin (NMF) with amino acids, Urea and lactat provides for a long lasting, high hydration of the epidermis
Glycerol works strike-smoothing, improved and stabilizes the skin humidity and supports the effect bio MIME tables of the damp retaining factors.
Macadamia Nussoel (Nuts Oil) with its high content of Palmitoleinsaeure, a component of the natural Hautlipide, draws rapidly into the skin, helps, strengthen the Lipid barriers of the skin protects against drainage and lends a soft, smooth skin feeling.
Oil of avocado and care oils on vegetable basis supplement the lipid dependence effect and contribute to a balanced Feuchtigkeits/Lipidgleichgewicht the skin.