DENTISTE' Oral Rinse_450ml and Fresh Breath Spray 15ml - Oral Hygiene care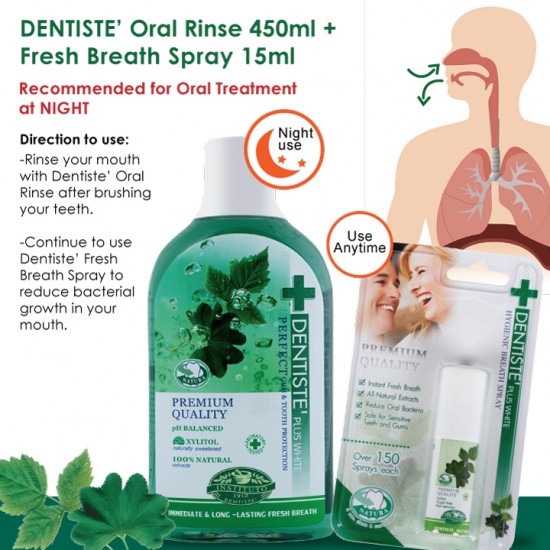 New Hot
DENTISTE' Oral Rinse_450ml and Fresh Breath Spray 15ml - Oral Hygiene care
Stock:

In Stock

Model:

Oral Rinse and Fresh Breath Spray

Weight:

0.60kg

Dimensions:

15.00cm x 6.00cm x 18.00cm

SKU:

Bundle
Dentiste' Oral Rinse_450ml
Item Code: 705458

Packing: 450ml/bottle

DENTISTE' Oral Rinse has a special pH balanced formula and uses OPTA FLOW Technology for boosting self cleansing Salivary flow, which helps reduce bacterial deposit, protect the gum and moisturise the mouth naturally to prevent dry mouth for long lasting fresh breath.

Active Natural Extracts : Antiseptic and Antibacterial to help inhibit the growth of bacteria for immediate & long-lasting fresh breath.

Exclusive Self-Cleansing Saliva Flow Enhancing formula : Increases Self-Cleansing Salivary Flow to help clean and reduce bacterial deposit for long-lasting fresh breath and dry mouth prevention.
CDX : Trapping Volatile Sulphur Compound, the cause of bad breath.
Xylitol : Natural taste enhancer that bacteria cannot feed on.
pH Balance : Helps boost Natural Tooth Re-mineralization, bringing minerals back to the teeth, thus reducing the chance of having tooth erosion, whiten and strengthen the teeth
Dentiste' Fresh Breath Spray
Item Code: 705514

Packing: 15ml/unit

DENTISTE' Breath Spray is a Hygienic Oral Spray that enhances your confidence with instant fresh breath. It contains natural extract and has a special gentle formula that is suitable for sensitive teeth and gums. It effectively reduces oral bacteria during the day and prevents tooth decay with its sugar-free ingredients.