EUBOS BABY SKIN CARE FREE Baby Hooded Towel + Soothi Patch 1 Pouch (6 in 1 bundle)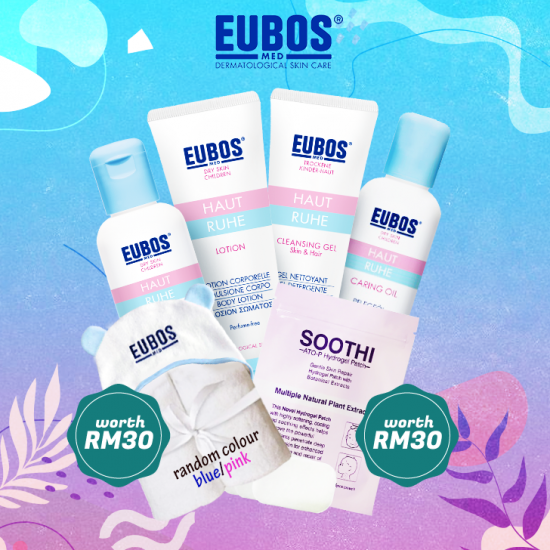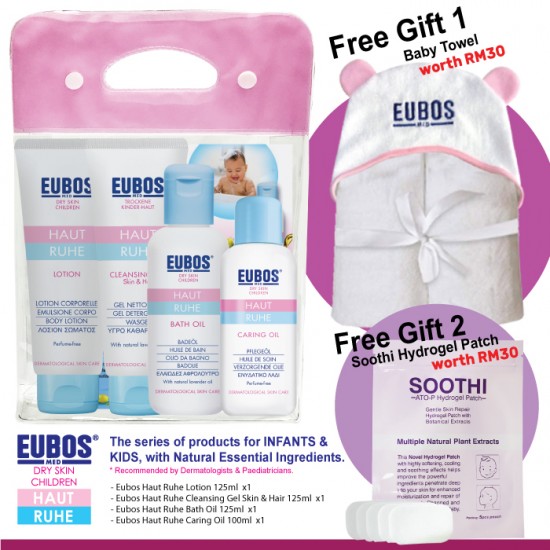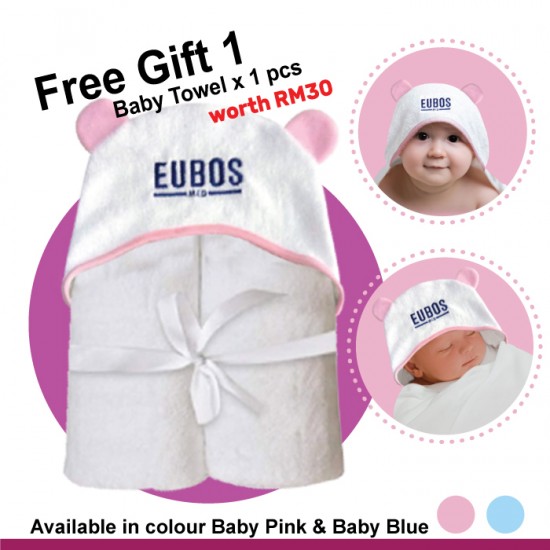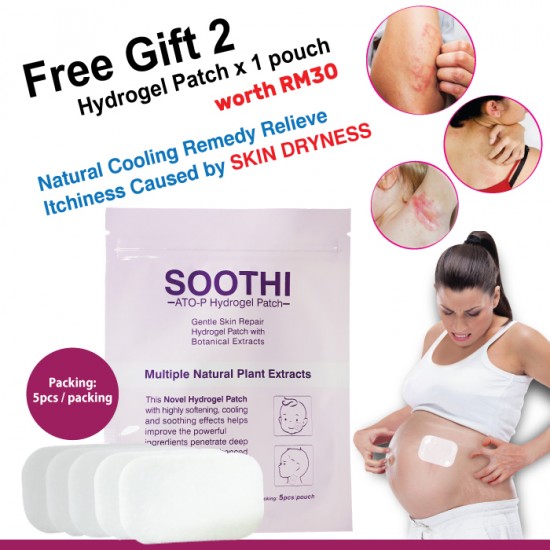 EUBOS BABY SKIN CARE FREE Baby Hooded Towel + Soothi Patch 1 Pouch (6 in 1 bundle)
Stock:

In Stock

Model:

EUBOS HR Free Baby Hooded+Soothi Patch 1 Pouch (6 in 1 Bundle)

Weight:

1.80kg

Dimensions:

0.16cm x 0.14cm x 0.22cm

SKU:

Bundle

EUBOS
EUBOS Haut Ruhe Babies & Children Skin Care

Basic effective care for dry, sensitive and irritated skin of babies and children.
EUBOS HAUT RUHE CARING OIL 100ML
SPECIALLY FORMULATED FOR BABY AND CHILDREN. THIS LIGHTWEIGHT BODY OIL CONDITIONS AND NOURISHES SKIN
WITHOUT LEAVING A GREASY RESIDUE SO YOU CAN FEEL REFRESHED.
(NON-GREASY OILY BASE – VERY EFFECTIVE FOR REPAIRING SKIN)
EUBOS HAUT RUHE CARING OIL IS A SKIN CARE PRODUCT BASED PURELY PLANT-DERIVED COMPONENTS
FOR DRY, ROUGH AND IRRITATED AND DELICATE SKIN OF BABIES AND CHILDREN. ALSO IS IDEALLY USED FOR MASSAGING THE
WHOLE BODY INCLUDING THE BELLY DURING PREGNANCY. IT IS A CALMING EFFECT ON THE SKIN AND SENSES, ALLEVIATES
ITCHING CAUSED BY SKIN DRYNESS AND REDUCES SCALING SIGNIFICANTLY.
EUBOS HAUT RUHE CARING OIL HELPS STRENGTHEN THE NATURAL BARRIER FUNCTION AND MAKES THE SKIN SOFT AND SUPPLE AGAIN,
THUS ENHANCING BABIES AND CHILDREN SKIN TO BECOME HEALTHIER.
THE PRODUCT IS HIGHLY RECOMMENDED BY MIDWIVES AS THERAPY-ACCOMPANYING CARE, AS A MASSAGE OIL TO SOOTHE NAPPY RASH AND HEAT RASH.
DERMATOLOGICALLY AND CLINICALLY PROVEN EFFICACY AND COMPATIBILITY.
NATURAL LAVENDER OIL FOR A PLEASANT AND CALMING AROMA.
* FREE FOR PRESERVATIVE, PEG, DYE, LANOLIN, ALKALINE, SOAP.
INGREDIENTS:
SUNFLOWER SEED OIL , SIMMONDSIA CHINENSIS SEED OIL , SWEET ALMOND OIL , PRUNUS DOMESTICA SEED EXTRACT ,
SALVIA HISPANICA SEED OIL , VINE EXTRACT , HELIANTHUS ANNUUS SEED OIL , ECHIUM PLANTAGINEUM SEED OIL
EUBOS HAUT RUHE BATH OIL 125ML
Specially formulated for baby and children.
(Non-greasy oily base – very effective for repairing skin)
Natural Lavender oil for a pleasant and calming aroma.
* Free for Preservative, PEG, Dye, Lanolin, Alkaline, Soap.
Recommended as therapy-accompanying care.
Intensive caring and gentle cleansing BATH Oil for delicate and dry skin of babies and children.
Protects the skin against drying out, preserves skin's natural protective barrier, deeply moisturizing and repairing skin .
Contains purely vegetable components, such as cupuacu butter, virgin cold-pressed olive oil, sweet almond oil and natural lavender oil.
Supplies the skin with valuable lipids and improves its moisture content significantly. Has a soothing and calming effect. Makes the skin
perceptibly and measurably smoother. Compatibility and efficacy dermatologically confirmed.
Direction on use for Infant to Kids:
- For Infant: Half cap to be added to the lukewarm water. After bathing, rinse off with lukewarm water.
- For Kids: One cap to be added to the lukewarm water. After bathing, rinse off with lukewarm water.